As an Amazon Associate, we may earn commissions from qualifying purchases from Amazon.
The pandemic has forced us to remain locked inside our houses. Prolonged periods of inactivity have started taking a toll on the health of many individuals. Experts have highlighted the importance of remaining involved in some physical activity and performing exercises at home. One great home gym exercise equipment is the air bike. In this article, we shall help you identify the best air bike for achieving your fitness goals.
Top 9 Best Air Bikes 2021
Assault AirBike Classic is the latest addition to the air bike series manufactured by assault Fitness. This air bike is gaining popularity in the home fitness space. Moreover, Assault Fitness received overwhelmingly large orders for the AirBike Classic and its predecessor by gym owners too. It is regarded as one of the most durable air bikes available in the market today.
The durability of this air bike is thanks to the sealed cartridge bearings it uses for every pivot. Twenty such sealed cartridge bearings have been accommodated strategically without compromising on the stylish design. The Assault AirBike Classic is most suitable for training at home and can help you enhance your performance.
The Assault AirBike Classic has a separate digital console. The console has seven distinct programs that help you in designing a suitable workout session. The programs help in building a workout based on the distance that you usually run, the calories that you burn, and the heart rate that you have during workouts. There are several other choices also, that adds motivation to the workout.
Overall, it's a high-quality product, coming from the production units of an industry giant. This air bike is great for home workouts, especially during these unprecedented times.
Body Rider BRF700 Exercise Upright Fan Bike (with UPDATED Softer Seat) Stationary Fitness / Adjustable Seat is another great option if you are looking for a good air bike to reach your fitness goals. It is available on all major shopping platforms and has fetched positive reviews from buyers. It is great for following low-impact cardio fitness regimes that one can easily do at home.
Physical therapists say that it is the best fan bike for patients, whom they help with rehabilitation, as it allows them to perform quiet and low-intensity workouts. For rehabilitation, ergonomic stability of the seat is extremely important. It is because a lack of stability will put undue pressure on the affected part. This air bike is adjustable, and the ergonomic design makes it easy for the customer to use.
When you look at other high-quality air bikes available in the market today, this one is probably the most affordable option. The air bike has all the necessary features, such as a dedicated resistance system, which will help you achieve your home fitness goals.
Schwinn Airdyne Bike Series is a lightweight air bike manufactured by Schwinn Fitness. The air bike weighs only 112 pounds and has an effective air resistance mechanism. Like all good air bikes, this one will allow you to perform an intense cardio workout involving almost every major muscle of your body.
Wind-resistance technology is important for workouts that are either performed at home, or in a situation where you are recovering from an injury. The resistance offered by the air can be controlled by your body's momentum. Hence, you will always remain in control of your workout.
This air bike has a digital console with an LED display to help you keep track of your workout analytics like distance, calories, time, pulse, etc. It also has a RevMeter RPM gauge that gives an account of exercise metrics that are helpful for interval training.
This air bike has simple foot pedals with foot straps to ensure that you have better motion control. It also has several other features like a water bottle holder and additional accessories. Overall, it is a good option for anyone who is looking for a high-quality air bike for their home cardio workouts.
The Schwinn Airdyne AD 2 is one of the best-selling designs in the Schwinns airdyne bike series. It is a compact air bike model produced by Schwinns Fitness that weighs only 90 pounds. These Dimensions make it more suitable for buying and using at home.
Air displacement mechanism helps in increasing resistance during cardio workouts. With this air bike model, you can increase the air resistance infinitely.
The LCD console and the control panel are simple to use and understand. It has a unique outflow fan that works quietly and provides necessary cooling. You can design the optimum workout parameters for yourself by using different programs in the control panel, and altering the speed of the cooling fan.
While this air bike is lightweight and compact, it is easy to transport as well. The manufacturers have provided special rubber wheels at the bottom so that they can be moved around easily. The air bike also has special footrest pegs on which you can rest your feet when you intend to target upper body muscles.
With its highly efficient drive systems and sturdy padded seats, the Schwinn Airdyne AD 2 can support a weight of up to 113 kgs. In all, it is the best airdyne bike available at a low price.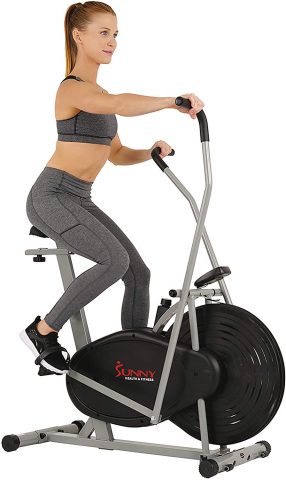 The Sunny Health and Fitness Air Bike is another great product, part of the air hybrid design manufactured by Sunny fitness. The air bike has an efficient fan-wheel design that helps in pushing air, which acts as a resistance for your workout. It is larger than other popular models produced by this manufacturer. Moreover, it also has a large cushion seat, which can be adjusted as per the user's needs.
This air bike works on the chain drive mechanism. Compared to other popular air bikes that use similar mechanics, this one has a smoother and more reliable chain drive mechanism. The micro tension systems that are used in the Sunny Health and Fitness Air Bike help in adding additional resistance when needed. The micro tension systems can be controlled using a special knob.
Efficient air bikes offer full-body workout mechanisms. This air bike has long handlebars that move when you push against the pedals. Therefore, a total body workout with good intensity is possible when you use the Sunny Health and Fitness Air Bike.
The digital monitor helps in monitoring the progress, and also has a performance monitor screen attached to it. With several adjustable straps and transportation wheels, it is easy to use and move this bike.
The Sunny Health & Fitness Zephyr Air Bike belongs to a different series of airdynes manufactured by Sunny Fitness. The bike uses belt and chain drive mechanisms to create resistance. These operate on simple parts that do not require much maintenance. The pedals are directly connected to the drive chain, which makes you feel as if you are riding a regular outdoor bike.
In this bike, the resistance wheel is protected by a special steel cage. Therefore, it is a durable bike with solid construction. Separate protective mechanisms for the resistance wheel and the steel frame helps in preventing any damage to the air bike, even during rigorous workouts.
This air bike also provides a performance monitor system with a digital display. The person can see workout parameters like duration, speed, distance, etc. while using the air bike.
These parameters and programs displayed on the monitor system help provide accurate information about your progress. In Zephyr series models, an additional tablet holder is provided near the monitor. It can be used to attach your tablets and mobile phones while you workout.
The hand bars of the Sunny Health & Fitness Zephyr Air Bike have foam pads. These pads help in easy grasping. Moreover, you can even adjust the height of these hand bars for better workouts.
XTERRA Fitness AIR650 Airbike Pro is among the most stylish air bikes available today. It weighs only 115 pounds and can be easily accommodated in your home gyms. The bike uses its air mechanism for resistance. Its resistance is very smooth and can be increased indefinitely. While it can provide high resistance at faster speeds, the intensity always remains in the control of the user. Hence, it is one of the best assault bikes you can find.
Just like the other bikes that we discussed, this one uses a chain drive system for resistance and functioning. Moreover, the chain drive has been prepared with industrial-grade materials and expertise. Thus, you get the guarantee of high-quality equipment when you buy the XTERRA Fitness AIR650 Airbike Pro. The chain drive is smooth and requires minimal maintenance.
There are several buttons on the panel that help you in turning on different programs. The programs that you can launch in this air bike model include high-intensity interval training programs, target programs, and customer user programs. Its target programs are very helpful when you are in the rehabilitation phase, and aiming for a particular range of healthy heart rate, pulse, calories, etc.
The Ativafit Fan Bike Exercise Upright AirBike for Indoor Cycling is a popular choice for people who perform regular exercises at home. It is a compact air bike variant, which fits snugly even in the most congested home settings. The Ativafit Fan Bike Exercise Upright AirBike is lightweight and easy to transport
The bike is made with alloy steel and has a robust frame. Besides, it has an accurate digital monitoring system, which provides computerized tracking of parameters like distance, calories burnt, duration of the workout, etc. It is great for both upper and lower body workouts as it engages all the major muscles. Moreover, the hand bars are adjustable and have special foam pads for comfortable grips.
The Ativafit Fan Bike Exercise Upright AirBike for indoor biking has a versatile seat with a high degree of ergonomic stability. You can adjust the seat according to your height too. The seat has enough space to maintain your body in a comfortable and stable position throughout your workout. It is made with sturdy material and can bear a weight of up to 250 lbs.
Overall, the Ativafit Fan Bike Exercise Upright AirBike for Indoor Cycling is a great piece of home gym equipment. Many call it the best fan exercise bike available today.
The last product on our list is considered the best air bike for Crossfit training. The Marcy Exercise Upright Fan Bike for Cardio Training and Workout AIR-1 is a popular choice among those who train at home and among gym owners as well. Crossfit training is meant for those who already follow good fitness regimes regularly. This air bike can take care of the cardio aspect of your Crossfit training effectively.
Despite having so many features and being suitable for all levels of training, this air bike weighs only 95 pounds. So, you should seriously consider it for home training. Once you buy this, you won't need any other equipment for your cardio needs. It has a simple air resistance mechanism, and the digital panel features aren't complicated either.
The air resistance increases as you increase your pedaling speed. Hence, you are always in control of the intensity of your cardio workout. Being a fan bike, it has an outflow cooling mechanism that propels cool air onto your body while you workout.
Tracking your progress is easy as the Marcy Exercise Upright Fan Bike for Cardio Training and Workout AIR-1 has digital panels with displays that project details of your heart rate, calories burnt, etc. Besides, the bike also has foot straps that keep your feet in contact with the pedal, so that you can pedal comfortably.
The design of the Marcy Exercise Upright Fan Bike for Cardio Training and Workout AIR-1 is sleek and stylish. It has a powder-coated finish and a steel frame. Level adjusters for hand bars and the seat are simple to use. Overall, it is probably the best air bike on our list.
Factors To Consider Before Buying Best Air Bike
You should consider the following factors before selecting an air bike model.
1. Size
Air bikes are most useful for low-intensity home-based workouts. However, the space crunch at home settings won't allow you to buy huge air bike models. Therefore, you should choose an air bike, which is compact, lightweight, and has wheels underneath so that it can be transported easily.
2. Programs
Air bikes with digital panels and tracking programs are much better than traditional air bikes. Therefore, see the programs that are available in the digital console, and select the bike which is most suitable for your workout needs.
Conclusion
So, in this article, we discussed the utility of air bikes in cardio training, and how you can choose the best air bike for yourself. Air bikes are being updated by manufacturers to include several modern features, to make workouts more interesting and fruitful. However, not all new updates are worth spending huge sums of money on. Therefore, we came up with this list of affordable air bikes that have all the necessary advanced features. Select one among these, and work your way towards achieving your fitness goals.
FAQs on Air Bikes
Q1. Are Air Bikes Any Good?
An air bike is the best equipment that you can buy for home-based training regimes. It is not only helpful for low-intensity workouts but can also play a pivotal role if you prefer doing high-intensity interval training. Overall, it is the perfect tool for improving your cardio performance.
Q2. Which Is Better, Air Bike Or Spin Bike?
Spin bikes are simple stationary bicycles. They do not have a resistance component. However, with airdynes, you get resistance mechanisms that help in building muscle strength and provide better conditioning. Therefore, if available, you should always prefer an air bike as it outweighs the benefits of a stationary bike.
Q3. Why Are Air Bikes So Expensive?
An air bike can be regarded as an all-in-one tool that helps in improving your general fitness. It can support your training at all levels. So, for these additional features, an air bike generally costs more than a spin bike. However, in our discussion, we have stated several air bike models that are available at affordable rates but provide all the necessary features.
Q4. Are Air Bikes Good For Weight Loss?
Air bikes are amazing fitness equipment for cardio training. Exercising regularly on an air bike conditions muscles and helps reduce the fat content and burning calories. If you get the best air bike for your fitness level, it will help you a lot in enhancing your performance. Hence, air bikes are great for losing weight as well.