As an Amazon Associate, we may earn commissions from qualifying purchases from Amazon.
Every time you scroll down your mobile screens, all you see are pictures of people on social media flexing their muscles. Do you wish to tone your body, as well? All you need is the perfect treadmill to begin with. Foldable treadmills are particularly great to start with. Not only do they help you save space, but they also blend well with your home decor.
CHECK THE TOP 5 BEST FOLDABLE TREADMILLS NOW!
If you're wondering which is the ideal machine perfect for your home gym to purchase, worry not. We've got you covered. Let's jump right in!
Top 5 Best Foldable Treadmills 2021
The Sunny Health & Fitness folding treadmill is one of the best fitness equipment out there. It is a gray-colored machine made of steel, which works well with a corded electric wire. Measuring 62 x 25.5 x 50 inches, this amazing treadmill tops the leaderboard. Now, let's take a quick look at its unique features.
Features
Believe it or not, this outperforming machine sports a 2.20- Peak HP drive system. This system offers 0.5 – 9 MPH along with three manual options. These options give you the flexibility to adjust the incline levels without hassle, say, at 0%, 2%, 4.37%, and so on.

This top-notch treadmill is designed specifically for a maximum user weight of 220 lb. Additionally, it provides a user-friendly running interface of 49L x 15.5W inches.

Whatever you want from a treadmill, the Sunny Health & Fitness folding treadmill provides you just that. The machine is easily foldable and boasts a super-cool

soft drop system, which

allows you to unfold the treadmill with ease and yes, completely hands free.

Moreover, the handrail controls permit you to effortlessly monitor speed, start, and stop. You can also utilize the pause function to halt the belt and pause your run for a while. Don't worry- you won't lose your current data, and your running

stats are intact

.

The best part is, it offers 9 Built-in workout programs. Adorning a large LCD that displays time, distance, speed, calories burned, and pulse, the Sunny Health & Fitness is one of the

best folding treadmills

in the market.

It includes a convenient smartphone/tablet holder that is capable of holding different devices. To make the setup process hassle-free, you will be provided with a user manual, as well.
Altogether, the Sunny Health & Fitness folding treadmill is one of the best foldable treadmills for your fitness goals. It provides you utmost comfort while working out. You can place your phone/tablet in the holder, which in turn gives you greater accessibility. Plus, you can burn some calories while listening to your favorite playlists.
The soft drop system is a blessing in disguise, as it helps you unfold the treadmill with ease, thereby avoiding a big slam or damage to your floor. In short, this best space-saving treadmill is certainly a one-stop destination to maintain your fitness. The Sunny Health & Fitness folding treadmill is, without a doubt, the best buy!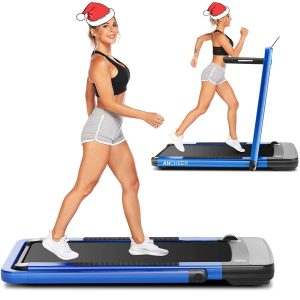 ANCHEER provides the best treadmills for all your fitness purposes. It has been established for over 12 years now and remains a favorite brand among home gym enthusiasts. Well known for its stylish design and a wide range of functions, this best compact treadmill is sure to meet your expectations. Furthermore, it offers strict quality control and excellent customer support. What more do you need on a treadmill?
Apart from giving a high-quality workout experience, this flawless machine has various other features to offer. Let's dive right in.
Features
If you haven't noticed, this is a 2-in-1 folding design. Yes, you heard that right! You can use this amazing equipment as a regular running treadmill plus under a desk as a walking treadmill.

The speed of the running belt will be 0.6 to 2.5 mph when it is in walking mode. The speed will range from 0.6 to 7.5mph while in running mode.

The ANCHEER treadmill comprises a Watch Style remote control and a FITSHOW APP. This is really convenient to adjust speed, choose from 12 helpful exercise programs, and switch between three modes. The Multi-functional LED displays, along with several

fitness apps

, will help you track your workout time, speed, amount of calories burned, and distance. Additionally, the phone holder allows you to work out while keeping you entertained.

It boasts a strong and quiet 2.25 HP motor & shock absorption system. You can exercise in peace as it utilizes an ultra-smooth, quiet treadmill motor. The durable steel paves the way for shock reduction and also minimizes noise to a great extent. Hence, you can run in a calm, quiet, and comfortable environment.

The running belt has a 5-layer shock-absorbing structure. This anti-slip, anti-static design offers safe cushioning for your back, joints, knees, ankles, and muscles as a whole.

Another plus point is that you don't have to spend your precious time setting up this machine! This 2-in-1 treadmill arrives fully assembled, permitting you to use it directly as soon as you unbox it. Along with being one of the

best lightweight treadmills

, it is an easily foldable machine. Plus, it has wheels, which means it is movable and can also be stored in a small space.

Further, the ANCHEER treadmill comes with a built-in safety key. This key ensures instant shut-off under emergency situations. It supports a maximum weight capacity of 265 lbs.

It is made available as an all-in-one package that also includes an effective lubricant. You are given 12 months of quality assurance. Moreover, you are provided the freedom to replace any defective or damaged parts. It is not only one of the

best foldable treadmills

out there but offers 100% satisfied customer service. As an added feather to its cap, the ANCHEER treadmill has passed the CE, ROHS, CB, EN957, and IEC certifications by SGS.
In a nutshell, this super-functioning treadmill is the best foldable treadmill you'll ever get to keep your body toned. So, what are you waiting for?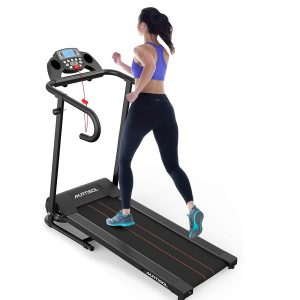 Murtisol is among the most trusted brands among home gym enthusiasts. If you're looking for the perfect addition to your home gym, look no more, as this is an apt choice. The Murtisol treadmill boasts a remarkable foldable design and can also be stored easily. Unlike other noisy treadmills, this one is quiet and gives you a comfortable running experience. Let's move on to its features in detail.
Features
1. Space Saver
Even though it is a heavy machine, Murtisol treadmills aren't huge. If you are looking for the best space-saving treadmill, this is it. It blends well with any home style and is easily-foldable. Measuring 21.3 x 24.8 x 47.2 inches, this treadmill is your ideal companion to stay fit.
2. Safe Exercise
It adorns an LCD display that is capable of tracking and monitoring your health. Moreover, it offers an excellent deck for good cushioning. Bid goodbye to all your ankle, back, knee joints, and muscle pains. The treadmill is also great for light running when you're recovering from an injury. Plus, it includes an emergency stop button, thereby ensuring your safety and wellbeing.
3. Simple And Convenient Design
It includes safe and convenient handlebar controls that'll help you monitor speed easily. You don't have to move your hands from the handlebars or run with the fear of losing concentration anymore.
4. Smooth And Quiet
This high-quality treadmill makes use of a smooth, powerful motor that barely produces any noise. You can comfortably listen to music and run your way to fitness!
To sum up, Murtisol provides an easy-to-move and simple-to-assemble treadmill for all your workout purposes. It'll only take you about 20-30 minutes to get the equipment together. When you're done, you can begin your journey to get all toned up. Good luck!
LifePro Electrostride offers one of the best compact treadmills in town. It provides a fast and effective shortcut to fitness from the comfort of your home. This treadmill is sure to help you discover the power of your body's core strength. Moreover, this is the perfect choice to improve your cardiovascular health. Let's move onto its features.
Features
1. Foldable Compact Treadmill
Usually, cardio equipment takes up a lot of free space in houses, but this electric portable treadmill easily folds into a compact 5.5″ Width. This makes it easy to store, even in small spaces. With this mind-blowing equipment at home, you don't have to visit the gym anymore. Additionally, it adorns 2 HP motors and 8.7 mph speeds. Also, it boasts a 48″ L x 17.7″ W running track and a flexible handlebar for easy height adjustment. Its weight capacity is up to 200 lbs.
2. Smart Fitness
Bluetooth helps you connect to your favorite apps that track your fitness. You can calculate your BMI, monitor your heart rate, and pulse using these apps. The LED displays all details related to calories, distance, time, speed, and pulse.
3. 39 Training Programs
LifePro Electrostride has dozens of pre-set training programs available. Along with this, they offer three customizable programs that provide you with several workouts that cater to all your needs.
4. Healthy Weight Loss
This machine helps you shred your weight in no time. It assists you in transforming your physical and mental health by burning calories and reducing stress.
5. Lifetime Warranty
All the products undergo rigorous scrutiny to make sure they deliver ample power and efficacy. The built-in lifetime warranty ensures all the support you need will be provided by a team of experts.
Briefly put, the LifePro Electrostride compact folding treadmill can be included among the best space-saving treadmills. Look no more, as this is the ideal choice that will lead you to the perfect fitness.
Dr. GYMlee folding treadmill is yet another amazing machine available in the markets. With an affordable price range, this purchase will be worth every penny. Let's take a look at its distinct features.
Features
The treadmill is easy to assemble. Actually speaking, you'll receive the product in one-piece along with a few add-ons. All you need to do is follow a few simple steps that'll just take you 10-20 minutes. 

You have 12+ programs with 12+ speed levels available at your fingertips. It is highly easy to use and makes you feel super comfy while walking and running. Plus, the hydraulic rod included with this package makes it easy for you to fold the equipment in no time. It is convenient to store and saves a lot of space. Hence, it is one of the

best treadmills for small spaces

. They are well-equipped with wheels, which makes them easy to move. You can shift it anywhere comfortably so that you can sweat all the fat out.

It comes with a high power DA-225 motor that provides MAX 2.25 CHP. It is capable of bearing a maximum capacity of 300 lb. You are sure to have a smooth running experience, so don't you worry. Also, it showcases an extended wide running belt that works efficiently to absorb shock. Three manual incline levels are available, and they offer different workout intensities. It allows you to easily switch between them by adjusting. If you want to run, walk, or do cardio exercises, this smart machine comes in handy.

Last but not least is the LCD display feature. This feature helps you track your heart rate through the armrest. These LCD monitors will display data related to the calories burned, speed used, time taken, etc., thereby allowing you to work out more effectively and scientifically.
In short, this is a fantastic way to lose weight and look fit. This treadmill allows you to workout from the comfort of your home. Bid goodbye to regrets, invest your money in this treadmill, and thank us later!
Factors To Look Out For While Buying A Treadmill
1. Cushion Size
If you are a regular runner, you ought to get your hands on equipment that goes up to 10 mph or higher. The running bed should be equipped with shock absorption. Also, the belt shouldn't shift from side-side with each foot strike. The intensity of your workout depends on the horsepower of the drive motor. Therefore, keep such specifications in mind before you buy a treadmill.
2. Belt Size
A treadmill is a multi-purpose machine. It allows you to walk and run. For this, you'll always need a smooth-functioning treadmill. Remember, the belt size should be at least 48″ inches long and 18″ inches wide. As for tall people, 54″ inches is the ideal size.
3. Weight
This is one of the most important factors to be considered while buying the best folding treadmill. If you are a larger person, the treadmill should be strong enough to carry your weight. It is advisable to deduct 20 pounds for a realistic figure while checking for the user weight rating. Normally, home gym treadmills can accommodate a capacity of up to 300 pounds in weight.
Best Foldable Treadmills – Time To Get Fit!
We have provided you with a list of the top 5 treadmills that'll help you attain your ultimate fitness goals. Even though there's a lot of equipment available in gyms and fitness centers, nothing compares to running on the perfect treadmill in the comfort of your own home. You can now be a part of your favorite workout programs. Your hunt for the best folding treadmill has come to an end.
With excellent weight capacity and a space-saving structure, these treadmills can be included among the best compact treadmills of all time. If you are a music lover, you can listen to your favorite music tracks while monitoring your heartbeat, time, and whatnot. In a nutshell, if you have one of these outperforming treadmills at home, congratulations, you've now entered the path to fitness. Also, don't forget to stay safe on the treadmill!
Happy exercising!