As an Amazon Associate, we may earn commissions from qualifying purchases from Amazon.
BCAAs, or Branched-Chain Amino Acids, are one of the most essential parts of a successful fitness journey. They have a lot of scientifically proven benefits and if you are also looking for the best amino acids supplements, then here is our guide to the best BCAA.
BCAAs are crucial for muscle recovery and the desired energy during workouts. If you are gaining muscles or losing fat, they will surely help you achieve your goals. To help you with the best supplements in the market, here is our list of the best BCAA for men.
CHECK THE TOP 9 BEST BCAA SUPPLEMENTS NOW!
After considering all the important factors, performance levels, and crucial reviews, here is the list of the best BCAA supplements for you:-
Top 9 Best BCAA Supplements 2020
The first product on our list is Xtend's Original BCAA Powder. If you are an experienced fitness enthusiast, you already know about the reliability of Xtend and there are high chances that you have already had a chance to try it. 
The brand has been producing the finest BCAAs since 2004 and this original BCAA from the brand is one of the best BCAA pre workout products available in the market.
The best part about this product is that it is completely sugar-free and has zero calories and zero carb content – ideal for weight loss. It has branched-chain amino acids excellent for muscle recovery and growth. Another great feature is that it supplies the necessary electrolytes to your body while you workout and keeps you hydrated throughout the session.
One other important aspect of this product is that it is thoroughly tested and verified. It has been perfected by following strict standards and is free from all any banned or illegal substances.
Lastly, it is available in several delicious flavors such as mango madness, blue raspberry ice, glacial grape, freedom ice, watermelon, and many more. You can choose your favorite one from the long list and enjoy your workouts way more than before.
For best results, consume at least 14 grams of BCAAs per day.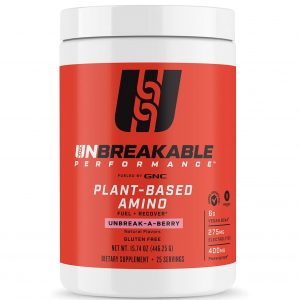 Next on our list of the best BCAA powder is GNC's Unbreakable Performance Plant-Based Amino powder.
It is specially prepared to help your muscles instantly recover after an intense workout. You can take it during your workout sessions for consistent energy and strength throughout the session. You can also take it on non-training days to continue muscle formation without the breakdown of muscles.
Finally, all the ingredients in the product are fully tested for over more than 220 banned substances athletes cannot use.
Hence, it is completely safe as well as ideal for use by any fitness enthusiast.
If you are looking for a premium and powerful supplement for fast muscle recovery and high energy, then Steel Supplements' Best BCAA is the best option for you.
Just like the brand's name, the BCAA is formulated to give you great strength and energy during exhausting workouts. It is formulated with the scientific 2:1:1 ratio and gives you the essential energy and nutrients you need while you're working out. It also reduces muscle soreness and lessens the pain that you feel on the next day after a workout.
Its innovative formula rebuilds the damaged muscle tissues and gives you a speedy recovery. Apart from that, this BCAA is also ideal if you are on a weight loss journey. It helps burn off your adjacent fat cells as well and paves the way for new muscle growth.
Lastly, it is free from any and all unwanted stimulants and makes sure you burn fat cleanly and build muscle organically.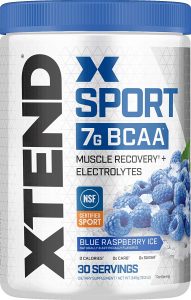 Xtend's Blue Raspberry Ice flavored BCAA is a top-ranked product in the market and definitely one of the best BCAA for men. It has been formulated with the research-proven 2:1:1 formula and is free from calories, sugar, or carbs. So if you are training hard or trying to lose some weight, this is going to be your ideal workout partner.
Drink it before and during your workouts and it will give your body the fuel it needs to keep you hydrated, and dramatically improve your performance. Drinking it post-workout can help in rapid muscle recovery, better growth of muscles, and in ensuring there is no loss of muscles.
Besides that, its blue raspberry flavour is a delight for your taste buds too! You don't from that, it is a thoroughly tested and trusted product. It is NSF certified for sports purposes and has no unwanted banned products.
Xtend has made this BCAA with years of industry experience, and you can definitely trust their expertise in building better muscles.
The next product is the BPI's Sports BCAA.
It is also a great option if you are looking for a high-quality product for instant recovery and not willing to spend a lot of money on a product for the first time. BPI BCAA has a special formula that offers fast muscle recovery and prevents muscle breakdown during tough workouts. The most promising feature of this product is that anyone can use it. If you are an experienced bodybuilder or a novice in the fitness world, it would serve you just as well.
It contains fast-absorbing branched-chain amino acids (BCAAs) and CLA Matrix that gives your body an instant boost while you workout and take care of your stiff muscles after it. Hence, you get powerful performance and a comfortable recovery of muscles at the same time.
Lastly, BPI offers a 100% money-back guarantee. So, if you get the wrong product, you will conveniently get all your money back.
On the list of the best BCAA powder, the next product is BPI Sports Shredded BCAA Powder.
If you are embarking on a weight loss journey, we highly recommend you to go for this specially formulated BCAA powder. It has an innovative formula with a mix of carnitine and gains of paradise that will help transform you into your shredded self.
It is designed to burn fat for fuel and helps your body use stored fat as fuel during your workout sessions. Thus, it improves your performance while training and gives you lots of essential energy. Simultaneously, the BCAA also supports the development of muscles.
Its snow cone flavor and other delicious flavors would make you enjoy your workout sessions even more.
Finally, BPI offers a 100% money-back guarantee on its products.
If you are an athlete looking for a product to boost your performance, BPI Sports BCAA is what you need. This mix of Branched Chain Amino Acids supports muscle recovery and repairs muscle tissues but most importantly, boosts your performance. You can use it whether you are an experienced fitness enthusiast or you're new to the entire thing.
It has a fast-absorbing formula that gives instant relief to your sore muscles and builds back any damaged tissues. It is the best BCAA for men who are looking for something to help with post-workout recovery. Lastly, its watermelon ice flavor adds a fun touch to your workout sessions and keeps you energised. 
Just like other BPI products, it also has a 100% money-back guarantee.
Thorne Research Amino Complex BCAA is an innovative product and is one of the most finely developed BCAAs. Its special formula is backed by intensive scientific research of more than 25 years.
It is free from gluten or any other types of allergen such as eggs, tree nuts, or peanuts. Simultaneously, it does not contain soy, dairy, yeast, shellfish, or fish products. Hence, if you are allergic to substances and looking for a healthy solution, this is definitely the right option for you.
With regard to its performance, it enhances lean muscle development and provides fuel for an intense workout. It is a great product for all types of fitness ventures and offers great muscle recovery after workouts.
The last product on our list of the best BCAAs for men is the Sascha Fitness BCAA.
The product comes with BCAAs and a high-quality mix of Glutamine, HMB, L-Carnitine, and HICA. All these supplements help with great muscle recovery and healthy weight loss.
It acts fast to help with your muscle recovery and prevents unwanted muscle loss. It enhances the protein synthesis in the body and helps your body to use its fat as fuel for workouts. Hence, it improves the overall energy levels in the body and prevents you from an exhaustive state.
Lastly, it reduces the cortisol levels in the body, and efficiently manages stress levels.
Best BCAA Supplements – Conclusion
BCAAs have a lot of health benefits and if you are an avid fitness enthusiast, then including a good quality BCAA supplement in your diet program would give you a lot of advantages.
BCAAs are proven to improve muscle growth, decrease muscle soreness, and reduce fatigue. While you are training, they give you the essential energy you need, and after an exhaustive workout session when your muscle tissues are damaged, the BCAAs speedily rebuilds those tissues.
They are also proven to help people with liver issues and many people look for the best BCAA pills to get a healthy and energetic physique.
In a nutshell, BCAAs are essential and you need the best BCAA products to reach your fitness goals. Our guide has given you the list of the top products and now, it is your turn to choose the best one for you and turn your goals into reality.