As an Amazon Associate, we may earn commissions from qualifying purchases from Amazon.
If you are into bodybuilding, you must have heard about creatine being used as a supplement in diets. It's a substance found in your muscle cells, and helps you produce more energy in your muscles during an exercise involving heavy lifting. So we bring you the list of the best creatines in the market to help you find a product that works for you.
CHECK THE TOP 10 BEST CREATINE SUPPLEMENTS NOW!
Top 10 Best Creatine Supplements 2021
It's considered as one of the best creatines on the market. This one, from the Crazy Muscle Store, has successfully combined three types of creatine into one formula: Creatine Monohydrate, Alphaketoglutarate, and Pyruvate. These three together ensure that the mass-building capacity of your muscles increases.
It gives you a boost in post-workout performance and also shortens the post-workout recovery time. This means that you won't be that tired after a heavy workout session.
Every serving of this creatine contains over 5 gms of Creatine Monohydrate, Pyruvate, and AKG. Apart from them, the creatine also contains Creatine HCL, Creapure, Phosphate, etc. As it is a tablet, it has an a-hundred-percent absorption rate and doesn't require a loading phase either.
This Creatine Monohydrate from Isopure is for those who monitor their calories carefully. Usually, creatine is made of 5 gms of Creatine Monohydrate, but being the stronger version of creatine, it gives your muscle power a greater boost. It also helps increase muscle strength. This allows you to lift more or even go through strenuous exercises for a longer time.
It has no calories and no added flavor. This means that you are getting pure creatine monohydrate powder. This will solely help you build your muscle power and mass. You needn't worry about gaining extra weight as a side effect.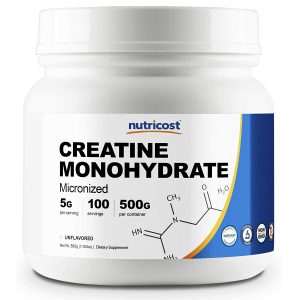 This is one of the best creatines for men and women who are bodybuilding enthusiasts and those who love their diet shakes. This micronized powder easily dissolves into a liquid. Hence, all you have got to do is to put the powder in your shake and drink it up.
It contains 5 gms of Creatine Monohydrate per serving. Therefore, you must not go for more than one serving a day. Taking more than one serving may have serious health implications. If a well-balanced diet isn't followed alongside this supplement, there may certain other implications too.
You must follow the creatine cycle properly. The loading phase should be 1-2 weeks. The maintenance phase should be 5-6 weeks. Finally, the pause phase should be of 2-4 weeks. This is when you should avoid taking any creatine at all.
This powder from Nutricost comes within the pocket pinch and lasts long and can be considered as one of the best creatine monohydrates.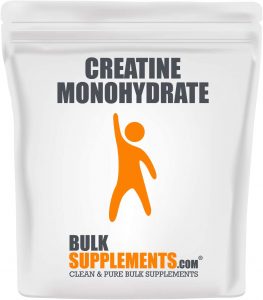 As we discussed above, creatine monohydrate is the stronger version of creatine and will thus help you more. This product comes with Creatine Monohydrate in the micronized form. This means you can easily mix it in your dietary shakes, before and after your workout.
It is best to consult a dietician, however, when it comes to its dosage. If you follow the procedures correctly, you are sure to notice healthy weight gain. It will boost anaerobic strength and also give added support to the brain and cognitive functions. This is largely helpful, as sometimes over usage of creatine leads to problems in brain functioning.
This product from German Creatine is from one of the best creatine companies. This product is produced by AlzChem Trostberg GmbH in Germany. There is a reason why it is so popular among the best athletes around the world.
The purity of this product is impeccable. It has been tested various times, with its consistent result being 99.55% purity intact. Fewer impurities mean more energy without any harm to your health.
Along with Creatine Monohydrate, it has other ingredients like creatine Ethyl Ester and creatine HCL. All these compounds together help produce Creatine Phosphate. This helps boost energy production in your muscles, which, in turn, keeps you going during strenuous workouts.
As it's a powder, it is extremely easy to just mix it in a drink and have it on the go. Another impressive thing about this product is that it has been clinically tested numerous times and the results have been positive every time. There have been no toxic effects whatsoever of this product. Hence, you can easily trust this product as this is one of the best creatine powder.
This creatine powder from Optimum Nutrition does make sure that consumers have optimum nutrition. As it has the least amount of calories, it's unflavored. This also means you won't gain extra weight while having supplements. Just make a healthy fruit diet shake and add the powder to it for a yummy drink.
Every serving of this powder has 5 gm of Creatine Monohydrate. Hence, you should be careful about your daily intake. It is usually recommended to strictly avoid having more than one tablespoon of the powder a day. The best time to consume this is after workout.
This product essentially helps speed up the muscle-building process and also helps your muscles faster. If you take the powder after the workout, you won't feel fatigued. Also, you won't have to take a rest for a long time. Some take it before their workout to get that boost of energy and to push their own boundaries.
You can go for this product even though you are on a diet. Even if you are on a keto diet, it is still suitable for your needs.
This Creatine Monohydrate powder from MuscleTech is cost-efficient. If you are into bodybuilding or any endurance sports, this will be your lifesaver. With great quality that's never compromised, this is a fantastic option.
Clinically tested, this creatine monohydrate powder works best pre-and post-workout. It increases the intracellular fluid, which, in turn, makes the muscles grow bigger and fuller. This also influences the energy levels in your muscle, which allows you to workout longer and take on a greater load.
You have to go through the loading and maintenance phase religiously, or there might be side effects noticeable in your body. If you are someone who keeps a check on calorie intake, then this is just the product for you! It has no fillers and no sugar, thus giving an organic boost to your energy. It is also one of the best creatine brand.
We have already discussed the Creatine Monohydrate powder from Optimum Nutrition. Now, you could be those who do not like to take supplements through their food. That's why we use the micronized creatine monohydrate capsules! All you have to do is take the capsule just pre or post-workout.
Each capsule has 2.5 gm of creatine monohydrate. Therefore, it is completely fine to take two capsules a day. However, make sure you do not overdose yourself. Overdose of any supplement never gives you boosted energy. Instead, it could negatively impact your health and wellbeing.
Just like the powder, the capsules too, help speed up the muscle-building and recovery process. Hence, you don't need to rest for long durations in between sets and can go through many strenuous exercises.
If you are a vegan in search of supplements, then this is for you! This powder from Naked Creatine will give you only the best. It has only one ingredient, and that is just 5 gm of Creatine Monohydrate, micronized. It has no artificial flavors, calories, or sweeteners.
As it is made purely out of Monohydrate, it dissolves into water quickly, which is why it also rapidly gets absorbed into the muscles. Hence, all you have to do is just drink the shake before or after the workout and feel your muscles repairing faster than ever.
BSN presents the Creatine Monohydrate powder which can be best described as new your workout partner. Each serving of the powder has 5 gms of Creatine Monohydrate; therefore, one spoon a day is enough.
Just add it to your diet shake and take it anytime. It supports lean muscle mass, which, in turn, helps you carry out your workout at ease. Apart from that, it helps you lift heavy weights, and gives you the energy boost to push yourself out of your comfort zone in the gym.
These are some of the best creatine supplements you can pick up to enhance your workouts. We would recommend you go for the one that best suits your needs and requirements. However, the best creatine on the market is undoubtedly the Athletic Xtreme German Creatine.
Best Creatine Supplements – Happy Workout!
Supplements are important if you are looking to build a lot of muscle, but overdosage never leads to positive results. Therefore, it's recommended that you consult a dietician beforehand. We hope this list helps you select the best creatine supplements for yourself.