As an Amazon Associate, we may earn commissions from qualifying purchases from Amazon.
If you are a weightlifter or are thinking about weightlifting, then you are probably searching the market for the best weightlifting shoe for a home gym that will support you and improve your workout. The popularity of weightlifting shoes is on the increase among the people who are into strength training.
Here we bring you a well-researched list of the best weightlifting shoes for men available right now and you can peruse it to decide which ones you want to buy.
Top 13 Best Weightlifting Shoes 2021
The Otomix Men's weightlifting shoes have been manufactured using synthetic and leather materials. They feature a high-quality, imported rubber sole. The shoes are lightweight but extremely durable. They are very comfortable to wear and come with additional ankle support. The thin sole offers a proper grip on the ground and provides good balance so that you can conveniently pivot and step.       
Wearing these shoes, you will be able to achieve a wide range of motion across various angles. The soles have durable stitches and are properly glued in so that you can freely engage in your physical activities. The feather-light body of the shoe and its excellent traction will give you an edge over your competitors. 
 The shoes are available in multiple vibrant designs and color shades that would fetch you quite a lot of attention. Besides weightlifting, it is ideal for training, wrestling, boxing, CrossFit, and so on.
The shoes boast a streamlined silhouette that looks great. The woven textile upper provides improved breathability while extra stability has been added through the inner reinforcements. The raised heel adds more support while the laces and strap keep the midfoot locked down. The shoe's overall design accommodates the natural flexing of the toes. This shoe is available in four amazing different shades – white/black/white, black/black/black, collegiate royal and black, black/grey/signal green.
These Adidas shoes have been made using a 100-percent textile and include a synthetic sole. They provide a regular, comfortable fit and have a lace closure with a hook-and-loop strap. The woven textile upper offers improved durability to the shoes. The shoes have a rubber outsole that provides excellent grip for better movement, and the reinforced forefoot ensures extra flexibility. The rearfoot of the shoes is padded, keeping your feet secure and comfortable. The shoes have a sturdy TPU wedge midsole. 
The Nike Romaleos 3 are quite chunky and heavy as compared to average trainers. They weigh around 408 grams. The extra weight is a good thing when it comes to weightlifting. They will help keep you anchored to the platform while you perform those explosive lifts.
The shoes include a mesh upper, which provides increased breathability. It is useful if your feet sweat a lot. The outsole has been designed using rubber, which provides a strong grip on the platform.  The shoes have a snug fit, which is also of immense benefit for weightlifting since they will remain attached to your feet all the time and give you the support you require.           
Besides their amazing performance, the Nike Romaleos is an extremely good looking pair of shoes. They have a design that is quite close to the Nike classics with a few hints of modern elements. They are available in four different styles.         
These RXN shoes have been fully manufactured using leather. The buff leather upper provides the best comfort for your feet. The shoes are incredibly durable and offer great flexibility. The crepe rubber sole provides your feet with the best stability. A strong inner sole gives you a good reaction force required to perform weightlifting.  
The hook and loop are adjustable, along with the instep strap for better support for your rear and midfoot. The heel has been elevated for better stability while you perform those power lifts. 
The unisex design of the shoes makes them appropriate for all genders. It has a modern, trendy design with bright colors. You can get these shoes in two shades – Red and Green.  
According to several reviewers, it would be better to go for a size or two higher than your regular size to get the best fit for your feet.
If you want maximum lifting performance, these shoes by Nordic are the best lifting shoes in the market to go for. Nordic is known for its premium weightlifting products so you can be assured of the quality.
These shoes provide powerful support and improved stability so that you can have an efficient workout and more gains. They also improve your posture and provide a snug fit to restrict any unnecessary movement. They are ideal for powerlifters and people working with heavyweights.
These shoes are extremely durable. A one-year manufacturer's warranty is also provided with the purchase.
These Under Armour Running shoes are made with 84% Polyester and 16% Elastane with a synthetic sole. These shoes are ideal for those looking for the best powerlifting shoes with a balance of cushioning and flexibility.
The shoes feature breathability by using a lightweight upper mesh that has a 3-colour digital print. They also include durable leather overlays that lock in your midfoot and deliver stability.
The Under Armour shoes are constructed with an Eva sock liner which is soft and provides step-in comfort. They offer greater responsiveness and provide optimal cushioning. The solid rubber outsoles protect you from any heavy impacts.
These shoes are tailored for your strength workouts and help in improving mobility and stability; they are great to be considered the best bodybuilding shoes in the market. The flexible sole lets you have a seamless high-energy workout.
These shoes are constructed with a rubber outrigger at the sole, which improves stability for lateral movements. These shoes are durable and breathable, and support the natural movement of your foot.
These Reebok Cross-trainer shoes are the best crossfit lifting shoes in the market. They are constructed with an anti-friction lining that reduces heat build-up and moisture, keeping you cool and dry.
They provide efficient foot support with the help of a Powerbax TPU plate and a dual rubber outsole. This makes the shoes stable and responsive. The closure mechanism is Hook-and-Loop, which locks the foot.
They also feature an air-mesh tongue and a full-grain leather toe for breathability and support.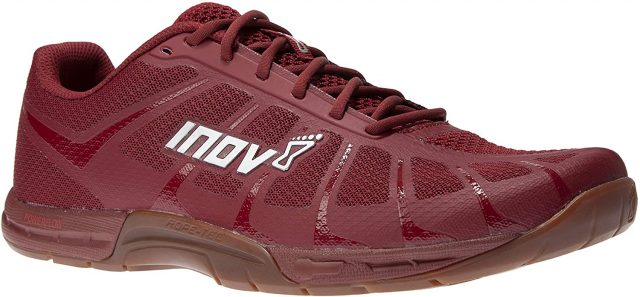 These shoes by Inov-8 are extremely lightweight and flexible, featuring performance outsole technology for natural foot movements. This allows you to move through your workouts easily.
These shoes provide a snug fit around the midfoot, which improves stability. The toe section is wide, which makes for an ideal base while lifting.
Manufactured with a rope guard technology, they are extremely durable and hold up to anything you throw at these shoes. They are minimally constructed but still deliver breathability and comfort and are versatile in their function.
These men's shoes by SEVE are exceptionally wonderful and can be used for the most strenuous training but are still versatile enough to be worn casually. The outer layer is made with environment-friendly and long-lasting microfiber leather; they are designed specifically for the gym.
The inner lining is made up of fitted skin towelling cloth which is so soft and sweat-absorbing that you can even wear these shoes without socks while working out. The outsoles are made of rubber that is flat, solid and flexible.
These shoes help you in supporting immense pressure while working out. You can weight train with maximum power while wearing these shoes because the SEVE's outsoles offer the greatest grip on the gym floor.
These shoes have a high-top design that helps in preventing your shins from deadlifts and leg extensions. Premium leather channels are also embedded for added stability and strength. The soft and thick, high top provides excellent ankle support.
SEVE also offers a one-year warranty and provides a full refund or free replacement for any structural damage.
Crossfit Nano 8.0 by Reebok has outclassed all its previous models in performance and fit. They are constructed with a new heel bootie design that provides comfort and enhances your performance.
They are constructed with nano weave, which improves the breathability of these shoes. They also feature forefoot flex grooves for added flexibility and a high abrasion-resistant rubber outsole to maximize durability.
The midsole is molded with a sock liner cushion so that each step that you take is comfortable. The toe area is protected by the use of toe section and provides targeted support during your workout.
New Balance Minimus 20 V7's upper is made from a nylon-infused yard that is engineered to provide lateral support without compromising on flexibility. This supports a natural foot movement and is the best cheap weightlifting shoes.
The outsole is made from a one-piece Vibram that provides superior grip. This helps in maintaining a natural stance while training. The midsole is REVlite and it provides lightweight cushioning. This enhances the comfort of the underfoot feeling and provides a better ground feel.
They fit comfortably on your foot by employing a molded foam asymmetrical collar. Mono mesh windows are included in the design for ventilation and comfort.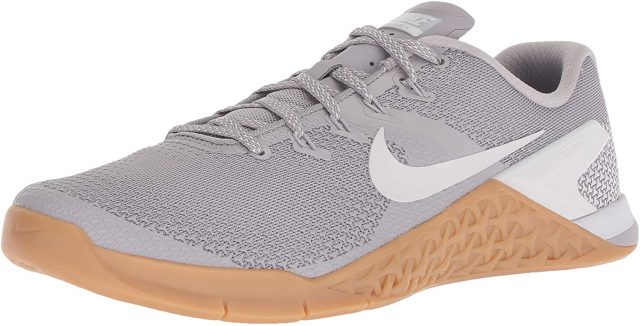 The Nike Metcon 4 shoes are the best lifting shoes if you are looking for the ideal combination of support, precision and durability. They are designed to provide a strong and stable base along with flexible support.
These shoes are extremely durable and you can perform a wide range of activities while wearing them. This edition of Metcon shoes uses a new textured mesh that provides superior durability. The shoes are reinforced from heel to toe with a new textured print.
The midsole used is softer at the forefoot and firmer at the heel, providing flexible cushioning for cardio and stability for lifting. A heel clip is used for stabilizing your foot while lateral movements.
It has 6 eyelets, instead of the usual 5, to fine-tune your lacing so that you can have stability and perfect comfort. A heel counter is also included in the design to reduce drag on wall exercises. The forefoot has sticky rubber which provides excellent traction.
Factors To Keep In Mind While Buying The Best Weightlifting Shoe
1. Type Of Heel
Different weightlifting shoes have different types of heels and it is up to the weightlifter to decide the type of heels they want. Regular sneakers have a pliable rubble-based heel which is not ideal for weightlifting.
If you are looking for the best powerlifting shoes, then you should go for shoes with one of the following heel types, we have mentioned their characteristics along with them.
EVA Heel: Lightweight, somewhat pliable and durable

TPU Heel: Durable, Lightweight, resistant to compression and abrasion

Stacked Leather Heel: Lightweight, old school appearance and platform feedback

Wood Heel: Stable base, platform feedback and old school appearance
2. Lacing And Strapping System
The lacing or strapping system of a weightlifting shoe is a significant factor while considering foot security. Shoes can be of a single strap, double strap or BOA lacing type. Each type of model provides security for different areas of the foot.
As a general rule, BOA lacing type and double strap models provide the maximum foot security. Single strap shoe models can be good for lifting light weights.
3. Heel Size
The size of heels of your weightlifting shoes affect your mobility and stability. Elevated heels on shoes provide a stable base and support mobility. The extra height helps the weightlifter to hold ideal posture angles. Optimum heel height depends on the weightlifter.
Conclusion
If you are on the lookout for the best bodybuilding shoes, then you should definitely check out this list. We have discussed some of the best models available in the market that will enhance your performance and will provide you with greater stability.
We have also discussed some really important factors for you to consider while looking at shoes for weightlifting so that you can have an efficient weightlifting session.
FAQs
Q1. Do You Need Special Shoes For Weightlifting?
It is advisable to buy shoes specific for weightlifting because they are constructed differently. They usually have an elevated heel which allows you to have ideal postures while weightlifting. Elevated heel sneakers are sturdy as well which is required while weightlifting.
Q2. Can I Wear Running Shoes While Weightlifting?
No, you should not wear running shoes while weightlifting because they are not designed for heavy weight exercise like deadlifts or squats. They are flexible with soft cushioning and weightlifters need stable shoes that are resistant to compression and have elevated heels.
Q3. Is It Bad To Squat With Elevated Heels?
Elevation in your heels encourages your body to attempt a deeper squat, forward knee tracking and consequently, a higher quadriceps stimulation. So it is good to squat with elevated heels. The best lifting shoes have elevated heels.
Q4. What Types Of Shoes Are Best For Weightlifting?
There is no one model for the best shoe for weightlifting. Different models work for different weightlifters. However, there are certain factors that can help you decide the best powerlifting shoes for you. They should have an elevated heel, they should have either a double strap or a BOA lacing system, and you should also check what type of heel the shoes are designed with.