As an Amazon Associate, we may earn commissions from qualifying purchases from Amazon.
Bumper plates are some of the most important accessories and essentially a huge investment in a gym. They are made to survive the toughest drops and last for years, even decades. Hence, you must choose the best bumper plates for your gym.
The best plates are the ideal blend of top quality material and high durability. If you are looking for the most suitable bumper plates for your home gym, garage gym, or professional weightlifting setup, we have a guide with the top-ranked products right here for you.
CHECK THE TOP 9 BEST BUMPER PLATES NOW!
Without further ado, let's have a look at the best bumper plates for a home gym with all the pros, cons, and essential information you need to make the purchase.
After considering all the important factors, trends, and crucial reviews, here is the list of the best bumper plates for the home gym:
Top 9 Best Bumper Plates 2021
Amgym lb Bumper Plates are high-quality Olympic plates made of virgin rubber. Positive reviews from fitness enthusiasts and incredible characteristics make them one of the best weight plates on the list.
Every Amgym plate has the standard 17.72" diameter and a 2" diameter hole that makes them fit for all Olympic style barbells. The high-density rubber used in the manufacturing of these bumper plates offers low-bounce and maximum durability even after repeated drops on any kind of surface.
One of the best aspects of these plates is their shortened width as compared to most other weight plates. Their ability to load more weight on the barbell makes them ideal for heavy weight lifters.
Lastly, they come in six weight variants, i.e., 10 lb, 15 lb, 25 lb, 35 lb, 45 lb, and 55 lb with an unmatched three-year warranty!
To conclude, if you are looking for a durable plate set, you can invest in these excellent rubber plates for all types of exercises such as strength training, weightlifting, or Crossfit.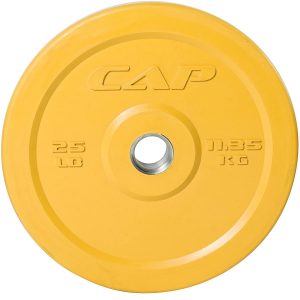 The next plate on the list is the Cap Barbell Bumper Plate. Designed with an inner steel hub and virgin rubber material outside, these plates are made to withstand heavy drops.
One outstanding aspect of the plate is that it weighs under 5 grams to give you unmatched accuracy! You can easily load it on a standard Olympic style bar and its slim and uniform structure will provide an evenly distributed weight to you.
For easy identification, these plates have a unique color-coding system such as a yellow plate for 25 pounds or a red plate for 45 lbs. Plus, if you prefer the kilogram system over pounds, they have weight mentioned in pounds as well as kgs on them.
Lastly, the plates are available in four different color options in accord with the recommendations- 10 lbs (green), 25lbs (yellow), 35 lbs (blue), and 45 lbs (red). However, they come as a single plate option.
Another bonus feature is that these are odor-free and you won't have to tolerate that weird rubbery smell at any time.
If you are looking for an economical option for your home gym, these Day 1 Bumper Plates are the best budget bumper plates on the list. With a lower price than its rivals, these bumper plates do not sacrifice any performance parameter. They are made with heavy-duty stainless steel and high-grade, low-bounce rubber.
Each Day 1 plate has a standard 17.5" diameter and a steel ring insert that makes the plate convenient for loading on all standard sleds, racks, and bars. The smooth ergonomics design of rubber plates makes them easy to load on barbells or for floor exercises.
This high quality and low bounce rubber composition of these plates won't produce any loud thumping sounds when you drop them.
Lastly, they are available in multiple weight variants such as 10, 15, 25, 35 or, 45 lbs.
HulkFit is an emerging name in the fitness brands and its tagline "Make your home your new gym" sums up the area of focus and finesse. Thus, if you are creating a home gym for yourself, you can trust its fitness products.
Their Olympic Plate is made of high-density rubber and a solid stainless steel insert that makes it durable and sturdy for all barbells. Plus, each plate is color-coded for quick identification.
If you are looking to add weight to your racks, these plates are ideal. They are available in singles, pairs, or sets. However, always remember that the 10lbs plates can bend if you drop them while they're individually loaded on a barbell.
If you were looking for a whole set of weight plates then here comes your product. BalanceFrom has got a whole 340 pounds set of the best bumper plates for home gym. It includes 2x10lb + 2x15lb + 2x25lb + 2x35lb + 2x45lb and 2x55lb plates.
The plates are made of high-density rubber with a solid stainless steel insert. The sturdy construction makes them powerful enough to bear repeated drops with the desired minimum bounce.
Each plate's inner ring has the standard 2" diameter and can be loaded on all standard Olympic barbells or dumbbell barbells or sleds. Plus, for handy management, every plate is color-coded and the weight is labeled in pounds as well as kilograms.
Hence, it is your one-stop destination for a set of bumper plates for your home gym.
If you are not willing to spend a fortune on bumper plates, then Papababe has the best value bumper plates for you. Their price won't burn a hole in your pocket and their low-bounce virgin rubber construction won't make a dent on your flooring either!
These real bumper plates are made with a pure rubber formula that results in a low-bounce, odorless, sturdy, and highly durable weightlifting plate. Plus, their durometer rating is 90! It is surprisingly amazing for an economical plate.
These plates are ideal for standard Olympic weightlifting, modern HIIT training, or other weightlifting exercises where you have to drop the plates from a height. Their low noise characteristic also makes them ideal for a home gym especially if you have kids or neighbors nearby.
Their 2" diameter stainless steel insert keeps the plates firmly positioned on the barbell and the top quality rubber material would last for years.
In case of any issue, you also get a two-year warranty!
The next product on our list of the best Olympic plates is PowerT's Barbell Bumper Plates. Their high-quality professional build makes them suitable for all kinds of professional weightlifting as well as for use in home or garage gyms.
The brand offers plates in several weight variants starting from mere 5lbs to 45 lbs. Every plate supports the standard barbell specifications and can be used with all 2" diameter barbells.
The innovative construction gives a low bounce, high durability, and smooth ergonomics to these plates. Because of their secure handling, you can easily use the plates for resistance training or other floor exercises.
The plates are available as pairs and you can definitely add these plates as supplementary weight in your training sessions.
Power Systems has brought a powerful single plate option with these maximum-durability and high-volume plates.
Although these plates are classified as bumper plates, their heavy-duty build and reinforced stainless steel discs make them highly versatile. Their wide inner disc uses a weight distributing mechanism to evenly distribute the weight across the plate while dropping and hence, adds durability.
These plates are ideal for Olympic weightlifting, powerlifting, or other HIIT training sessions. They are available in seven different weight variants ranging from small 2.5 lbs to 55 lbs and sold individually.
Here, we end our list of the best bumper plates with the kilogram variants of Amgym Bumper Plates.
Just like their lbs variants, these high-density natural rubber plates are one of the best weight plates among all the other options. Their solid construction with an unparalleled durometer rating of 90, a mix of rubber and stainless steel ring insert makes them a highly versatile and durable option.
They are made to support all standard Olympic style barbells and racks. Because of their special rubber formula, you don't have to put up with unpleasant smells. Moreover, they don't thud loudly when dropped to the floor either.
So, these plates are highly recommendable for commercial as well as home gyms.
Lastly, you get a two-year warranty and if you get any issue, so you can easily contact the manufacturer!
Factors To Consider While Choosing The Best Bumper Plates
Bumper plates are one of the biggest investments in a home gym. To get the most suitable ones, you have to take care of certain crucial factors before saying "yes" to a product. Here is a list of some essential factors that you must check before buying bumper plates –
1. Material
The first factor is a very obvious one- the material of the plates.
The material used as well as its overall composition plays a great role in the strength and durability of bumper plates. It also affects other factors such as bounce, smell, width, and price.
The best plates are made from high-density rubber or plastic and have a stainless steel ring insert in the middle. A good quality rubber gives the essential durability and the steel ring keeps the weight managed throughout the plate.
You can easily differentiate between good material and poor, low quality material by looking at the build of the plate. The price of the plates also increases with good quality rubber. So you can always manage to get the one you can easily afford.
2. Durability
Bumper plates are made to be dropped from shoulder height or from overhead. Hence, you cannot afford to compromise on its durability or strength.
A good quality bumper plate can last for years or even for decades. If you are a serious fitness enthusiast who works out consistently, you should invest in high quality and durable plates. They would last really long and result in a long-term investment.
3. Price
Bumper plates are quite expensive per lb and are definitely one of the biggest expenditures of a gym.
If you are just building a home gym, you can save a lot by simply asking yourself one question – how much weight do you need? Buy your weight according to your present form and what you will need from one year from now.
To calculate your ability, you can always go to a local gym for a while.
4. Other Factors
Along with the given crucial factors, here are some other features that you can look into a plate such as –
Pounds vs. Kilos – Kilograms plates are always easy to understand weight calculations and used in major competitions. However, if you prefer lbs over kgs, you can choose the plates according to that.

Inner ring diameter – Bumper plates with Olympic standard 2-inch holes are always the most preferred ones. They fit into all the standard barbells and are used in all major competitions and sets.

Thin plates – Thinner bumpers are the better plates for two reasons. Firstly, they use high-density rubber or steel plates for weight. Secondly, you can load more weight with these plates as they consume less area.

Color-coded or Black – Color-coded bumpers are highly attractive for a home gym and are easily recognizable. Next, they are competition style plates and recommended by IWF standards. Here is the

IWF color-coding scheme-
Color
Weight

1. Red

2. Blue

3. Yellow

4. Green

5. White

25 kg (55.1 lbs)

20 kg (44 lbs)

15 kg (33 lbs)

10 kg (22 lbs)

5 kg (11 lbs)
Best Bumper Plates – Conclusion
There are lots of advantages of bumper plates that have made them more popular than classic iron plates in recent times. Our guide has provided you with all the crucial information about bumper plates.
Amgym's lbs or Amgym's kilogram plates are definitely the best investment you can make in weight plates.
Cap barbell plates are our runner-up option for their optimal versatility.
And lastly, the best bumper plates on a budget are the Day1 stores Bumper Plates. You can add them as an additional weight on your racks and rely on them for all types of training requirements.
To sum up, getting the best bumper plates for you wholly depends upon your budget and your requirements. The quality of plates generally increases with the price and in their case, you always get what you pay for.
Happy lifting!