As an Amazon Associate, we may earn commissions from qualifying purchases from Amazon.
While exercising in a gym, sometimes, it is necessary to carry certain gear. This gear help you exercise better and sometimes even assist you to push your boundaries. If you have been in the bodybuilding community for some time, you must be aware that squats can be a little tough on the knees. Therefore, we are here with some of the best knee sleeves for squats.
Top 10 Best Knee Sleeves For Squats 2021
This knee sleeve from Mauwi is extremely comfortable to use while exercising. This sleeve is made out of nylon. It's good for those suffering from Meniscus Tear and Arthritis. If you are suffering from any knee problems, this knee brace will help you ease out your pain.
Knee braces are particularly effective to protect the joint area. However, you have to keep in mind that it does not reduce your pain. It is more of a preventive nature. This knee sleeve is also particularly good during squats. It reduces the wear and tear your knees exeperience.
This knee sleeve could be considered one of the best powerlifting knee sleeves. From Mava, this knee sleeve is made with bamboo charcoal fiber. This material is elastic and quite comfortable. A knee sleeve should prevent your knee from further injuries while also allowing good blood flow.
You can wear them for any outdoor or indoor activities. It would also help to recover your muscles faster, and gives less stress on the knee cap.
While powerlifting and squatting, you must have noticed a strong pressure on your joints. You can just wear these knee sleeves under your gym pants. This would protect your knees if you fall or reduce the stress on delicate joints.
It also has a percentage of spandex and latex mixed in it. Hence, this knee sleeve is highly elastic. You can easily wear it under clothes as well if you're experiencing chronic discomfort.  After a while, even you won't feel its presence much. This is one of those gym gears that are a must.
This product from McDavid can be considered one of the top options in best knee sleeves for squats. Not only squats, if you are a bodybuilder or a sportsperson, you should invest in this knee sleeve. The feature that attracts the eye is the pull-on-closure one. Certain knee sleeves may become loose after some use, but this one sticks to your skin, with no chances whatsoever of getting loose.
Now you might feel uncomfortable with the idea of something sticking to your skin, as your sweat might accumulate in that area. To counteract this, it has HDC Moisture Management Technology, which keeps the pads cool enough and even moisture-free! Still, it's recommended to pick up a size bigger than your usual size. 
This knee sleeve has even cell foam padding, which is sure to protect your knees while playing any sports or even during lifting. It has an extended length than the usual knee sleeves, which will protect your knee area from cuts and scratches.
Although priced a little higher, but this is an investment that you won't regret. This knee sleeve is extremely durable and will relieve your leg muscles from extreme cramping.
Are you bored with the plain design of every knee sleeve? Bear KompleX comes to you with its all-new range of designed knee sleeves. These knee sleeves can both be stylish and bring comfort to you.
If you are going to have a leg day in your routine, make sure to pack these knee sleeves. Made out of neoprene, this knee sleeve gives you the right amount of support you need and doesn't restrict your blood flow. Always make sure that your knee sleeve is the proper fit; if not, then you might feel discomfort while exercising.
It has been found in a study that people wearing knee sleeves or wrappers can easily lift 10% more weight than non-wearers. This is because of the extra support. Thus, you can also prevent your knees getting injured.
This company is even sponsored by CrossFit Games, making it a reputed and trustworthy product. 
Nordic Lifting presents premium-quality knee sleeves that will be the best workout partner you can ever have. Made with Neoprene, these sleeves have just the right amount of elasticity that would provide you with enough support to lift heavyweights. It doesn't restrict blood flow either.
Wearing knee sleeves while weightlifting, powerlifting, cross-training, squats, or crunches, would reduce the pressure on your knee joints and lets you work out more. Hence, this pair by Nordic Lifting makes sure you have a comfortable time with your knee in the gym.
The compression of this knee sleeve aids muscle recovery. Sometimes, you might need to wear knee sleeves if there is a light injury. However, first make sure that your doctor has recommended that the injury is light enough to wear a knee sleeve on.
The pair even gives a warming effect on your knees that helps to regain the energy in that area, which leads you to lift more. It comes in unisex models, so you needn't worry about the design at all.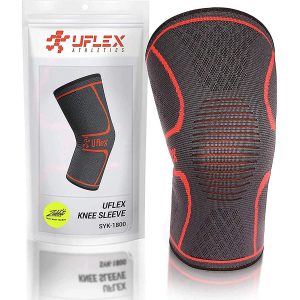 This knee brace from UFlex Athletics is the pull-on-closure type. It also has a 4-way stretch capability and compression. This modernistic knitting technology provides all-around support to your knee area. It would stay in place once you put it on.
Not only that, this knee brace is a pain reliever as well. However, that doesn't mean it would help if you have a broken knee joint. In case of minor accidents, this knee brace would protect you. Additionally, it also reduces inflammation or swelling by allowing the blood to flow.
It would also provide additional heat to help the muscles recover faster. Another interesting feature of this knee brace is the anti-slip silicone. This keeps the knee brace intact. It is also made with nylon-mesh and spandex. These materials make the brace elastic and breathable. Hence, it can be considered as one of the best knee braces for squats.
This nylon knee sleeve from Physix Gear will provide you with maximum comfort while you are exercising. It has double 4-way stretch lycra, which will give overall support to your knee area. As it is made with nylon, it has good flexibility. You can also wear it under your clothes without it being noticeable.
It has a Flexi Knitting Technique, which along with the No-Slip Silicone Technology, ensures that the knee brace stays in place. Hence, you can now lift or do your squats without worrying about the brace slipping off your legs.
It is comfortable enough and thus doesn't allow any blood clots. It will keep your knee area quite warm to help with muscle pain recovery. You can wear a pair for both indoor and outdoor activities. It is also quite durable; hence, if you invest in it, you are assured you don't have to go for another soon.
Before buying, make sure you select the right size. Check the size chart to be sure. If you are looking for a single knee brace, you can get this at a very affordable price.
If you are into powerlifting or want to get into the sports of powerlifting, the first thing to keep in mind is the rigorous practice you have to go through. This pair from Stoic can be considered to be the best knee sleeves for lifting. Made with Neoprene, it is comfortable and thus helps you lift more than usual.
It adds an extra layer of compression, support, and warmth. This, in turn, gives special protection to your knee joints. You won't feel much effect on your knee joint, thanks to the knee sleeves. It also has an added heat retention by the thick 7 mm neoprene. This tremendously helps reduce muscle pain.
The company guarantees that this is the most durable of all knee sleeves made for powerlifting. Most customers are satisfied with the longevity of the product. You will also find other features like the no-slip one, which will make the knee sleeve stay in one place so you can keep on exercising without worrying about it.
If you are still not convinced about the quality of the product, you can do a little bit of research for yourself and will find out that many of the professionals endorse this company with pride.
You must have understood the importance of knee sleeves by now. If you are having a leg day at your gym, or you are an athlete, you will know that the knee area is the most delicate part. It is prone to accidents and if you get hurt, there are chances you might have to quit the gym or the sport.
Hence, you should find a knee sleeve that not only gives you comfort but also helps you heal your muscles faster. Usually, most knee sleeves provide compression, but this one by ProFitness uses 7 mm thick neoprene to give you unmatched compression. It provides you with enough heat to even keep that area warm.
It is made with some heavy-duty construction and also has an impressive ergonomic design. All this ensures the durability of the knee sleeve. If you are using it for weightlifting, powerlifting, or cross-training, then you have to make sure that the knee sleeve is hardy and durable. You don't want it to get worn out after just a few uses.
This knee sleeve from the Iron Bull Strength can be considered one of the best in the category of the best knee support for squatting. It provides maximum support with comfort. It not only protects your knee area from any injury but also helps you recover from any muscle injury.
This knee sleeve provides enough heat to keep the area warm, but it also leaves space for optimal breathability and comfort. However, you don't have to worry about the knee sleeve being loose suddenly and slipping off. It has double silicone gels in the upper area to keep it intact. Hence, even if you sweat, the sleeve remains in place.
Made with Neoprene, the sleeve will reduce the pressure falling on your knee joints, or rather wouldn't make you feel it. In this way, you can push yourself out of your comfort zone. You can be assured that you wont hurt your knees too badly, all thanks to these knee sleeves.
Have A Safe Workout!
In a recent study, it has been found that in the USA, the number of people with artificial knees is increasing. This could happen for many reasons; however, a lot of accidents occur in gyms as well. While lifting heavy weights, or squatting with heavyweights, you can fall. If that happens, your knees will be the first part of your body to get hurt. Hence, it is quite necessary to wear knee sleeves as a precaution.
Hope you have by now found out the best knee sleeves for squats, as per your requirements.