It is advisable to use a Smith machine when you don't have a trainer to guide you because Smith machines are inherently more stable and steer the path of the barbell. This helps in preventing injury to a great extent.
This list will walk you through the best home smith machines available in the market so that you can pick out the best smith machine for home gym. We will also walk through the criteria you should have in mind while picking out one.
Top 10 Best Smith Machines 2021
The Marcy Smith Cage workout machine is made with a heavy steel frame. The frame is then finished with a durable powder coating to reinforce the structure. The aircraft cable used has a tensile strength of 2000 lb.
This is a highly versatile machine- you can perform various chest and arm exercises to develop the relevant muscle groups. This workout machine also has a dual-function leg developer. A pivot point is also installed to enable proper form during workouts.
This is the best home gym smith machine if you are looking for an all-inclusive workout station. It also includes an Olympic free-weight rack with 6 weight plate pegs built into the frame for easy accessibility.
The PowerLine Smith Machine is an elegant combination of resistance and free weight power. Couple this with safety and machine control and you have got the best smith machine for home.
It is made with extra-long twin carriages that have patented Super-Glide nylon bushings for enhanced longevity and frictionless movement. The mainframe of this machine is in the shape of a ladder and provides a solid foundation.
It employs four 2" x 2" 12-gauge steel pillars to guide and support the Super-Glide carriage during a vigorous workout.
This machine is equipped with a Dual-lock safety spotter catch system, which prevents the bar from pinning you in a max-out situation. It was created to transfer lifting movements seamlessly.
This Smith Machine is created for natural lower and upper body exercises with its set 7-degree reversed pitch. This allows for maximum muscle engagement and is unique to the Body-Solid series of Smith machines.
You can safely stop your workout at any time by utilizing the Linear ball bearing Smith system with 20 cross-member lock-out points. It also includes a free-weight rack system, which has 14 lift-off and racking positions.
This is the best smith machine for home in terms of safety, control, and versatility. The smith bar is large in diameter and easy to control, which prompts quick responses and is suitable for amateurs as well. Long and adjustable safeties are also included for the Smith machine as well as the free-weight barbell workout center.
The MaxKare Power Cage Smith Machine is made with commercial-grade heavy-duty steel and has extended legs for increased stability. The machine includes two high-density PVC dip handles covered with rubber strips. It has the capacity to support user weights up to 1500 lbs.
You can easily adjust the J-Hooks and the 14 squat bars. They are secured using premium steel screws and nuts for added safety. The J-Hooks also have a layer of urethane on top to reduce banging noises and prevent scratches.
This is the best smith machine that is versatile because it can be used for squats, bench press, weight lifting, upper body exercises as well as bodyweight exercises. This smith machine will give you gym-quality fitness in the privacy of your own home.
The Fitness Reality Super Max Power Cage is made using a heavy-duty tubular steel frame. The steel frame is 2" x 2". It is designed to have a large walk-in space for easy lateral movements.
This power cage has a capacity of 800 lbs and comes with two chrome dual mounted safety bars along with two chrome dual lock-on safety.
The bars can be adjusted at 19 different height levels to give you a wide range of total body workouts. The Super Max Power Cage can be used for shrugs, pull-ups, squats, and bench presses, among other exercises.
Two stability bars are also added to the back of the Power Cage to give impeccable strength training performance.
The X-Class Olympic Power Cage is constructed with a tubular steel frame to provide durability and strength during workouts. It is the best smith machine to buy if you want visible results.
This power cage has a total weight capacity of 1500 lbs and you can do over 24 different exercises with it. The area inside the cage is spacious for doing wide stance squats. It is so wide that you can even have a spotter with you.
You can work on your back, arm and shoulder muscles with the multi-grip pull-up bars as well as the Lat Cable Row attachment and the Lat Pulldown attachment. The Lat bar is 44 inches and the Low Row bar is 20 inches.
A bonus pair of J-Hooks are also a part of the package. The Power Cage also has predrilled holes for bolting it to any type of floor.
It has 2 Rubber grip drip handles and two 11.5 inch safety handles. The safety bars are covered with rubber strips to prevent any noise, denting, or scratches.
This Marcy Pro Smith Machine is the best home gym smith machine if you are looking for an all-in-one workout station. It combines a Squat Rack, a Utility Bench and a Power Tower to bring you an all-inclusive strength training tool.
It features a double pulley system so that you can perform various crossover workouts. A dedicated landmine exercise attachment is also included. The heavy-duty steel frame of the cage is finished with a durable powder coating.
The Marcy Pro Smith Machine also includes an adjustable high functioning bench to perform different shoulders, back and arms exercises. It also has transport wheels to move it when you are not using it.
This Jumbo Smith machine has an unsymmetrical design to balance weight effectively and save space. The knurling handles have an angled design with facility for ordinary grip, underhand grip, mixed grip and pull-ups (one-hand as well as one-arm).
This smith machine also has a safety hook along with long and short safety catch. It features a sturdy drip grip and alloy knobs for added structural integrity.
The sleeves are Hard-Chrome plated for various plate positions. It also has storage for various bars (Olympic bar, Curl bar, Lat bar, etc.). The frame has a rubber stopper and a long slide tube to enable smooth sliding.
The MiM Compact Smith Machine is the best smith machine to buy if you are looking for maximum safety. It includes a weight bench and a squat rack machine. The squat rack machine comes with a parallel chrome-plated guide rod.
This model boasts of a strong smith structure with its sturdy whole welding frame. It also includes their patented Sliding support, rubber stopper and safety hooks for maximum safety.
It is designed with an innovative four-track pulley for compactness and delivering efficient workouts. You can do a wide variety of upper and lower body exercises using this smith machine.
A roller sliding support is also provided to enable smooth barbel sliding along the guide rod. The structure is designed to reduce the sliding resistance and avoid barbel clamping for a smooth and safe workout.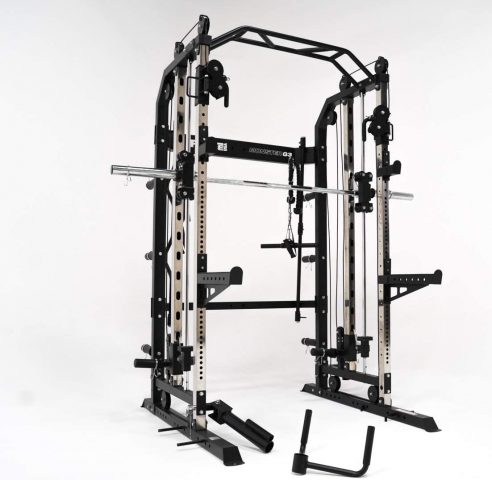 The Force USA Monster Smith Machine combines a cable pulley system, a smith machine and a power rack into one fully functional space-saving workout machine.
The power rack is made with heavy steel and has commercial-grade J-Hooks and safeties. The J-Hooks and safeties are adjustable to the height position you need.
You can perform over 75 different exercises focusing on different parts of your body using this functional trainer. This machine enables natural body movement for a safe, strong, and energetic workout. You can re-rack your smith bar easily into the height position of your choice.
Factors To Keep In Mind While Buying The Best Smith Machine
1. Linear Bearings
It is imperative for your smith machine to move smoothly. You won't be too happy about using the device if your barbell doesn't move smoothly.
You need a smith machine with a linear bearing system for that smooth movement. Linear bearing is made up of a series of ball bearings and ball bearings are good at reducing friction.
Not all smith machine models have a linear bearing system so you should always check the specifications before buying.
2. Warranty
Fitness equipment should always come with a warranty and smith machines are no exception to that rule. While warranties on these machines may vary, the good ones out there will offer a lifetime warranty on everything. You should also keep in mind that smith machines are often divided into moving parts and frames and you would need a warranty for both of them.
3. Attachments
Depending on what you want from your machine, you can buy a Smith machine that offers additional attachments, for a higher price, of course. You might want a pull-up bar or weight stacks or dip station or a leg developer and there are different models you can go for to have these attachments.
If you don't want any attachments then you can go for a simpler version of the smith machine and save some money as well!
4. How Much Space Will The Smith Machine Occupy?
It is important that you keep in mind the size of the Smith Machine you are going to buy because you will need some clearance around the machine as well – a couple of feet around the side and back and a minimum of 7 feet in the front.
If you have an ample amount of space, then you can go for the bigger Smith Machines; otherwise, a compact smith machine will be the best option for you.
5. The Angle Of The Smith Machine
It is also advisable to check whether the smith machine is angled or straight. Different people have different opinions – some say an angled smith machine enables a more 'natural' body movement and some heartily disagree with this.
You should try the machine out for yourself before you buy it to check what works best for you – straight or angled.
Best Smith Machines – What's your choice?
You need to think about a lot of factors while buying a Smith Machine and we have outlined the most important ones for you. If you are on the lookout for buying a smith machine for home then this list is for you.
We have discussed ten impressive and versatile models to help you choose the smith machine that meets your requirements.
FAQs on Smith Machines
Q1. Is A Smith Machine Worth It?
A Smith machine can more effectively isolate the muscle group you are working on. Your chest would be more isolated when you bench press on a smith machine compared to when you do a regular bench press.
Q2. Is It Okay To Squat On A Smith Machine?
Squatting with a Smith machine is safer because it lets you squat without the need for a spotter. So you don't have to skip your squats if you are alone and have a usable Smith machine.
Q3. Is It Okay To Deadlift On A Smith Machine?
You should always be very cautious about performing a deadlift on a Smith Machine. It is imperative to have proper form; otherwise, you can suffer serious back injuries.
Q4. What Are The Benefits Of A Smith Machine?
Primary benefits include improved balance and stability, increased muscle isolation, and efficient workout. It is also safer to bench without the help of a spotter when using the Smith Assisted Squat machine.