As an Amazon Associate, we may earn commissions from qualifying purchases from Amazon.
| | | |
| --- | --- | --- |
| 1. Legion | 2. Vintage Build | 3. Amino Vital |
| | | |
| CHECK PRICE | CHECK PRICE | CHECK PRICE |
Our body undergoes a strenuous process while we workout and can thus get fatigued. Thus, it is necessary that our muscles receive the required nutrition to repair themselves post workout and recover from fatigue faster. A good-quality supplement can help in providing the required nutrition to keep the muscles well fed along with assisting in faster recovery. It also helps in improving the strength and endurance level of muscles.
However, searching for the best post workout supplement that conforms to your needs is not that simple. If you are unsure about which one you should take home from the wide range of supplements and drinks available in the market, we are here to make it convenient for you. Keep scrolling to find out the 10 best post workout supplements for muscle gain that can also refresh and fuel you up in no time.
Top 10 Best Post Workout Supplements 2021
This drink by Legion is one of the best post workout supplements that can instantly boost you up. It is formulated with 100% micronized creatine which is scientifically tested to enhance strength and stamina. The clinically effective dose of creatine helps in improving muscle growth. The creatine monohydrate in 'Recharge' also improves anaerobic endurance. It has a delicious watermelon flavor that can refresh you after a long training session.
The drink contains another naturally occurring amino acid L-carnitine L-tartrate which helps in repairing exercise-induced muscle damage, reduce soreness, and also improves insulin sensitivity. It also contains Corosolic acid that is obtained from Banaba plants. It is clinically proven to improve blood glucose levels and insulin signaling. This post workout supplement also offers wholesome nutrition, which is necessary after exercising.
Following a Keto diet? Vintage Build Muscle Building Recovery Powder is one of the best post workout drinks that conforms to your food habit. It is formulated in the Old School Labs of California with 100% natural ingredients. Its unique formula acts as a 3-in-1 solution for your hard-earned muscles. It contains BCAA (branched chain amino acids), creatine monohydrate, and L-glutamine that helps in development of muscles and preserves them.
It has a refreshing taste of fresh berries that can rejuvenate you instantly after long hours of training. It is convenient and easily mixes with water or your preferred protein shake to give you a delicious drink to fuel yourself up with. Unlike other recovery drinks that add bulk, this drink triggers muscle growth and makes them hard, dense and strong.
Amino Vital Rapid Recovery Drink can be one of the best muscle recovery supplements for anyone who follows a vegan diet. It is made from 100% natural products and is gluten-free. The Amino Vital brand boasts of utilizing a plant-based fermentation process and presents the purest and highest quality of amino acids: Arginine and Glutamine. It also contains BCAAs and complex carbs.
This drink is great for athletes as it helps in boosting muscle repair and recovery after hard training or exercise-induced muscle injuries. It helps in reducing muscle fatigue and soreness and fuels you up and enables you to go back to work. It comes in single-serving pouches in a lip-smacking blueberry flavor with no additives or filler. The small sachets make it easier to carry it while travelling.
The Growth Surge supplement is true to its name and has rightfully earned its position on the list of the best post workout drinks. It is composed of high amounts and premium quality of creatine. It has the best form of creatine available in the market: creatine monohydrate, L-Carnitine L-Tartrate, Betaine, and Bioperine are clinically proven to enhance lean muscle growth and improve stamina.
The drink comes in swole-berry flavor that can not only refresh you but also help you to prepare for the day ahead. It is also found to optimize the anabolic window. Every ingredient of this supplement is scientifically tested and is cGMP certified. However, this drink is only to be consumed by healthy adults and not to be fed to children. It is also advised not to consume this if you are pregnant or lactating.
The Scivation Xtend BCAA powder is one of the best recovery supplements for someone looking for a sugar-free option. It is formulated with the world's best BCAAs which have been proven to promote recovery after strenuous sessions of workout. The drink also has amino acids like Glutamine and Citrulline Malate with BCAAs in the ratio 2:1:1. It is made with a unique formulation of electrolytes that promotes hydration.
This after-workout supplement is 100% sugar-free and has no carbs or calories. This drink can be consumed by both men and women and comes in a wide range of delectable flavors that can refresh you instantly after a hard day. It comes in mango, rainbow sherbet, blue raspberry ice, facial grape, watermelon, orange, lemon, fruit punch, and various other flavors that satiate everyone's preferences.
BSN Cellmass 2.0 is another best post workout drink ideal for people following a keto diet. Every serving of this supplement will give you 5 grams of creatine, 3 grams of glutamine and glutamic acid and 10 grams of amino acid. It also contains taurine and hydrolyzed whey protein. Its well-balanced formula improves a grea recovery rate after hard training and improves endurance, strength and stamina.
It has a special concentrated composition, which is all you need to recover and help your muscles rebuild themselves after intense workout sessions. Regular consumption of this drink also boosts your overall performance. If you are an athlete training for sports or simply a fitness enthusiast, this can be one of the best post workout supplements. This drink is approved by the Food and Drug Administration of the U.S. and is completely safe for consumption by any healthy adult.
The MuscleTech Myobuild is a recovery drink proven to be effective in boosting muscle strength by over 40% in just six weeks. It is formulated in 4:1:1 ratio of the branched chain amino acids featuring clinically tested doses of leucine, isoleucine, valine, betaine and taurine. The 4X formulation of Myobuild can effectively promote the growth of muscle tissues, increase strength, improve the recovery rate and also decrease catabolic activity.
This comes in a delectable fruit punch flavor that can get you refreshed at once. Just mix a scoop of this powder with 8 ounces of water and drink after your workout session. For better effects, you can also consume 2 scoops of this supplement in 16oz water. It can help in replenishing the lost electrolytes in the body and enhance your overall performance. Its free-form amino acids also aid in cell volumization.
Research has also shown that Myobuild has rich amounts of powerful phytonutrients that not only supports post workout recovery but also reduces fatigue and pain and decreases the effects of muscle breakdown or catabolism. It promotes the development of lean muscle in your body without adding bulk by simply increasing body mass.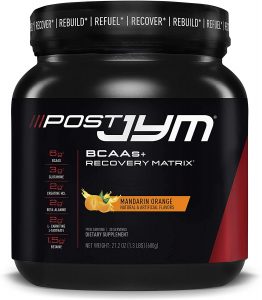 Post JYM Active Matrix in a tangy mandarin orange flavor can be one of the best post workout supplements for muscle gain for athletes. The supplement is formulated with eight ingredients that improve strength and stamina. It has high-quality ingredients: BCAAs, Beta-alanine, Creatine HCl, and Betaine. It helps in increasing protein synthesis which, in turn, promotes muscle growth. The supplement can simply be prepared by blending the supplement powder with 16-32 ounces.
It only has 45 calories in a serving, which does not add excess bulk to your body. The amino acid in Post JYM enables faster healing and recovery of the muscles. It can be consumed by both men and women. You can even consume this supplement before hitting the gym. It helps in replenishing the nutrients and electrolytes in your body and will help you to train even harder. However, the supplement contains traces of eggs, fishes, milk, soy, and tree nuts, which can cause hypersensitive reactions in certain individuals.
Xtend Ripped BCAA Splash is one of the best post workout supplements for muscle gain. It is formulated with 7 gm of premium-quality BCAAs in a 2:1:1 ratio along with other fat-burning ingredients such as CLA and Capsimax. These ingredients have been proven by research to boost muscle recovery after long hours of training and promote fat loss. It is also helpful in maintaining muscle tone and promotes the development of muscles.
The supplement is available in delicious flavors such as blueberry, lemonade, freedom Ice, orchard splash, strawberry, kiwi splash, watermelon, and lime. It also helps in hydration, which is crucial in the improvement of overall performance. Xtend Ripped Powder helps in building lean muscles. It is also completely sugar-free and has only a negligible amount of calories.
Garden of Life is another premium-quality health supplement, which is one of the best for athletes and fitness enthusiasts. It is formulated with 100% organic, plant-based ingredients, which is suitable for anyone following a vegan diet. This supplement is proven to improve cognition and to boost overall performance and promotes muscle recovery after a workout. The 30 gm of complete protein, with 5.5 gm of BCAAs, 5 gm of glutamine and glutamic acid, helps in repairing and refueling your muscles.
The supplement is rich in antioxidants which promote healing and boost the immune system of the body. It contains Organic Turmeric/Rooibos which minimizes oxidative stress and reduces muscle soreness after training sessions. It also contains grass-fed whey protein along with magnesium and Vitamins B, which further helps in boosting energy in the body.
The Bottom Line
To gain back strength, the muscles need to recover after long hours of workouts. Post workout supplements quicken the process of muscle recovery and improve the strength of muscles. We hope these recommendations of the 10 best post workout drinks will help you choose the one most suitable for your needs.